Berlin Reunion Events
Berlin Reunion 2016
After the phenomenal success of last year's sellout event, it's time for another Berlin Nighclub Reunion.
This time we're taking things to the next level featuring our first International headliner the legendary DJ Mark Archer playing a set of Altern 8 tunes.
Mark Archer will be supported by a lineup of Perth Oldschool legends who will all share in packing the dancefloor. Add to that a flyer designed by the one and only Junior Tomlin and you have the recipe for a seriously authentic oldskool rave experience.
When: Saturday 22th October 8pm til late
Where: 75 Stirling St, Perth
Tickets: $25 earlybird price and $30 after that. Door ticket price TBA. Last year's event sold out in advance so it's likely there won't be any door tickets.
Tickets available online from this link. Hard copy tickets also available. See the event page for details.
Giveaways on the night will include a mix CD from DJ Steil packed with favourite Berlin tunes, plus more.
DJ Lineup
Mark Archer - Altern 8 (UK)
Miggy - original Berlin Club resident
Greg Packer
JJ
Kenny L
Hutcho
Steil
Pure Oldskool IV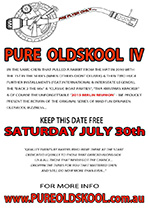 Perth's oldest rave production crew TeKnoLoGy CoRpS & F.O.R.C.E combine once more to present the return of these Old Skool events for you...
with our deck technicians playing the *Proper* Old Skool Rave & Club classics that you expect to hear & not get let down by promises of 'Old Skool' then you get some random young kid playing bad remix mp3s or someone playing looooong mixes of boooooring old rubbish that even in '89 you'd have left for the bar!
Instead we select a unique DJ lineup of legendary (and long-missed) Rave Scene favourites that you've been asking for but simply never get elsewhere (maybe they were still on bail or the wife wouldn't let them out) - the DJ's that were spinning the trax you adore the first time you heard them avin it on a sweaty dancefloor all those years ago!
Who : Pure Oldskool
When : Saturday 30th July 9pm-Late
Why : Because we LOVE this music just like you do.
Where : 75 Stirling St, Perth
How much ? : Pre sale tickets are like crazy 1990's price ( $10 )
Turntables ? : Absolutely every crackle, pop, hiss and it's just they way we like it.
Dj's ? :
Miggy
Hutcho
NVS vs Steve C
Fuxxy vs Steil
Skoota vs Köscha
Facebook Event Page - Online Ticket Sales Page
Back 2 the 90s - Hardcore Edition
Friday - 6th November 2015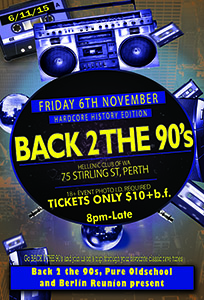 DJ Lineup
You can click each of the links to go to a page where you can stream / download a recording of the set
Berlin Reunion 2015
The first Berlin Club Reunion was held on 22nd August 2015. The sellout event saw more than 400 keen oldschool ravers squeeze in to the Hellenic Centre in Northbridge and pack the danfloor almost as soon as the doors opened until closing time. There were smiles all around and feedback on the facebook event page was overwhelmingly positive. A berlin classics Mix CD by DJ Steil was given out at the door. That mix as well as a couple of sets recorded from the night can be heard on the Mixes page. You can check the Gallery page for photos from the event.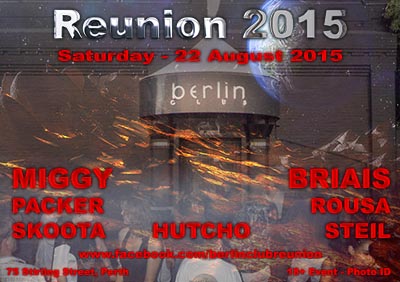 DJ Lineup
Darren Briais - Original Berlin resident
Miggy - Original Berlin resident
Greg Packer - Perth Dance Music Awards hall of fame
Hutcho - Perth Dance Music Awards hall of fame
Rousa
Steil
Skoota
Details
Date & Time: 22 August from 7pm to 2am
Tickets: $20
limited time early bird price of $15 + booking fee - available here and from selected outlets.
$25 door sales if tickets remain.
Venue: Hellenic Club of WA - 75 Stirling Street, Perth, Western Australia
Giveways for early arrivals on the night including Mx CDs packed with favourite Berlin tunes
More details and news from facebook event page
Venue Map