Dawns Light Brigade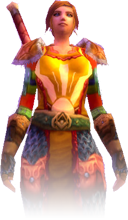 Dawns Light Brigade are a World of Warcraft guild playing on the Trollbane realm. The guild is made up of a variety of alliance characters. Why the name? Because the guild was created with one of the main goals of helping players who are new to the World of Warcraft - those who are in the dawn of their WOW playing experience. Even though many of our original and newer members are now level 80 we still keep our original goal at the heart of the guild.
We're not generally all about levelling up as quickly as possible and producing uber-elite characters but we won't turn away people who are. We're generally more interested in simply enjoying this wonderful virtual world that Blizzard have created for us. Explore, interact with others online and most importantly, have fun.
Guild tabard being modelled by Merolisa to the right. Mouse over the image to see how the tabard looked on April 1st. :)
News - The guild does regular instance and raid runs. The instances/raids which are run and number of groups are decided by the needs of the members present. If you need to do an instance, let one of the officers know in advance or schedule it using the in game group calendar. We are now doing level 80 raids. Vent server details on tips page.
Pic of the day
(reload for a different pic)