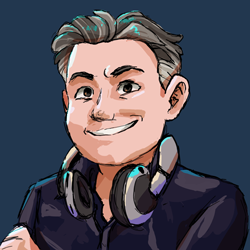 Steil is a DJ based in Perth, Western Australia who has been actively DJing since 1990. Beginning as a DJ in some of Perth's top night clubs and at some of Perth's first raves, Steil has since played at a wide range of events. Everything from Clubs, raves and festivals to weddings, parties, cruises, sporting events and radio shows. A fan of a wide variety of music genres, Steil has played all kinds of styles. Steil regularly DJs a variety of events as a part of Envy Event Group & Complete DJ and is also the Resident DJ for home games of the Rockingham Flames in the NBL1 West basketball league. During the week, Steil teaches the Belridge Beats DJ classes for Belridge Secondary College.
Steil can be found playing popular old & new commercial music or more underground music (such as house, drum & bass, techno and trance). Over the years, Steil has supported successful international acts such as Ultra Sonic, Public Domain, DJ Weaver, DJ Tango, Mark Archer (Altern 8), Alex Kidd and MC Eric (Technotronic).
Latest Promotional Mixes
Party Mix - Commercial Dance Hits (April 2023)

House Mix - 2023

Tech House Mix - 2023

More mixes available in the Mixes section.