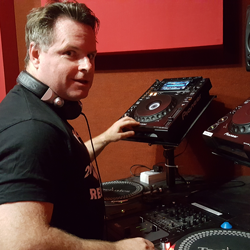 Radio Shows
Live at the Loungeroom
Live at the Loungeroom was broadcast each Wednesday night @ 7pm Western Australia time (+8GMT) through the Weststar Radio Network. Presented by DJ Steil with the occasional guest, the show featured the best of old and new dance music from a wide variety of genres. Each week had a different genre / theme so you can always expect something a little different.
Past Shows
The past shows are listed below. To hear a show, you can click on the

icon to stream / download the recording from House Mixes, or you can click the

to stream the recording from Hearthis and the

icon to stream the recording from Mixcloud.
You can also click on a column heading to sort the order the recordings are listed in.
The oldest shows in the list (labelled as FB) were recorded before the show began broadcasting through the Weststar network.
Show #
House Mixes
Hear-
this
Mix-
cloud
DJs
Date (d-m-y)
Genre
Description
100
Steil
17-11-2021
Rave
Journey from 80s classic rave through to early 90s rave sounds
99
Steil
22-09-2021
Tech House
Tech House new sounds
98
Steil
15-09-2021
Club
2002 club tunes (commercial / house / trance / breakbeat)
97
Steil
08-09-2021
Club
2001 club tunes (commercial / house / trance / 2 step garage)
96
Steil
01-09-2021
Bass House
New Bass House
95
Steil
13-08-2021
Hip-hop / R&b
Oldskool hip-hop / r&b set recorded at a live venue in Fremantle Western Australia
94
Steil
04-08-2021
Club
2000 club tunes (commercial / house / trance / 2 step garage / hard house)
93
Jools & Steil
28-07-2021
Drum & bass
Drum & bass tunes
92
Steil
21-07-2021
Hip-hop / R&b
1999 hip-hop and r&b tunes
91
Steil
14-07-2021
House
New soulful house
90
Steil
07-07-2021
Club
1999 club tunes (commercial / house / trance)
89
Steil
23-06-2021
Rave
Early 90s rave. Special edition for the Back2Rave event.
88
Steil
16-06-2021
Hip-hop / R&b
1996 hip-hop and r&b tunes
87
Steil
02-06-2021
Club
1996 club tunes (commercial / house / trance)
86
Steil
28-04-2021
House
New house tunes
85
Steil
21-04-2021
Rave
Early 90s rave
84
Steil
07-04-2021
Pop
New dance & pop hits
83
Steil
31-03-2021
Hip-hop / R&b
1994 hip-hop and r&b tunes
82
Steil
31-03-2021
Hip-hop
Oldschool hip-hop & electro
81
Steil
10-03-2021
Pop
80s 12" Singles
80
Steil
24-02-2021
Rave
80s acid house (87-89)
79
Steil
17-02-2021
Hip-hop / R&b
1995 hip-hop and r&b tunes
78
Steil
03-02-2021
Club
1995 club tunes
77
Steil
27-01-2021
Club
1990 club tunes
76
Steil
30-12-2020
Techno
New techno tunes
75
Steil
23-12-2020
Trance
Classic trance (90s to early 00s)
74
Steil
09-12-2020
House
New house tunes
73
Steil
02-12-2020
House
Classic house music (late 80s to early 90s)
72
Steil
25-11-2020
Club
1994 club tunes
71
Steil
11-11-2020
Hip-hop / R&b
1991 hip-hop and r&b tunes
70
Steil
04-11-2020
Club
1991 club tunes
69
Steil
28-10-2020
Hip-hop / R&b
1993 hip-hop and r&b tunes
68
Steil
07-10-2020
Rave
Early 90s rave. Special edition for the Back2Rave event.
67
Steil
23-09-2020
Club
1993 club tunes
66
Steil
16-09-2020
Hip-hop / R&b
1992 hip-hop and r&b tunes
65
Steil
26-08-2020
Club
1992 club tunes
64
Steil
12-08-2020
Hip-hop / R&b
1998 hip-hop and r&b tunes
63
Steil
05-08-2020
Club
1998 club tunes
62
Steil
17-06-2020
R&b
New Jack Swing classics
61
Steil
10-06-2020
Pop
New chart topping urban and dance tracks
60
Neli & Steil
03-06-2020
Drum & bass
Classic drum & bass
59
Rousa & Steil
20-05-2020
Trance
Classic trance
58
Steil
29-04-2020
Hip-hop / R&b
Classic urban tracks from the 80s to recent hits
57
Steil
15-04-2020
Trance
Classic trance
56
Steil
08-04-2020
House
80s house
55
Steil
01-04-2020
House
90s house
54
Steil
25-03-2020
Pop
80s dance & pop
53
Steil
04-03-2020
Techno
New techno
52
Steil
26-02-2020
Drum & bass
New drum & bass
51
Steil
12-02-2020
Pop
80s & 90s Slow Jams - Special Valentines Day Show
50
Trevor Cook & Steil
29-01-2020
Rave
Classic House & Rave - Special 50th Show
49
Steil
15-01-2020
House
Classic house from the 80s & early 90s
48
Steil
08-01-2020
Club
New remixes / covers of club classics
47
Steil
11-12-2019
R&b
80s r&b (mid to late 80s)
46
Steil
04-12-2019
Disco
80s disco (early 80s)
45
Steil
20-11-2019
Disco
70s disco
44
Steil
13-11-2019
Rave
Classic early 90s Rave & House
43
Steil
06-11-2019
Hip-hop / R&b
2002 hip-hop and r&b tunes
42
Steil
30-10-2019
Pop
80s Dance
Special
Skoota & Steil
02-10-2019
Rave
Opening sets supporting Public Domain & Ultrasonic
41
Steil
02-10-2019
Rave
New breakbeat hardcore / Nu rave
40
Steil
25-09-2019
House
80s Classic House
39
Steil
18-09-2019
Hip-hop / R&b
2003 hip-hop and r&b tunes
38
Steil
11-09-2019
Club
Early 00s club music
37
Steil
04-09-2019
Pop
80s vs Modern music
36
Steil
28-08-2019
Pop
80s Dance
35
Steil
21-08-2019
Trance
New trance
34
Steil
14-08-2019
Breakbeat
Classic Breakbeat - 1999-2009
33
Steil
24-07-2019
Downtempo
80s & 90s chillout tunes - all vinyl show
32
Steil
17-07-2019
Club
Club music from 2009-2011
31
Steil
10-07-2019
Club
80s club & dance tunes
30
Steil
26-06-2019
Hip-hop / R&b
2001 hip-hop and r&b tunes
29
Jools & Steil
12-06-2019
Techno
New techno
28
Steil
05-06-2019
Club
80s & 90s dance
27
Steil
29-05-2019
Hip-hop / R&b
2000 hip-hop and r&b tunes
26
Steil
22-05-2019
Club
90s club
25
Steil
24-04-2019
Rock
Classic rock mix
24
Skoota
17-04-2019
Club
Classic disco, club, r&b and hip-hop
23
Steil
10-04-2019
Pop
80s pop & dance
22
Steil
03-04-2019
R&b
Classic funk from the 70s and early 80s
21
Steil
27-04-2019
Bass House
New bass house
20
Steil
20-03-2019
Pop
80s pop & dance
19
Steil
13-03-2019
Club
90s club
18
Steil
27-02-2019
Hip-hop
80s hip-hop classics
17
Steil
13-02-2019
Club
Classic club tracks from the 80s, 90s and 00s
16
Steil
06-02-2019
House
New house
15
Skoota & Steil
30-01-2019
Club
Classic club tunes from the late 90s
14
Steil
23-01-2019
Club
80s dance
13
Steil
16-01-2019
Disco
Classic disco
12
Steil
26-12-2018
R&b
New Jack Swing classics
11
Steil
19-12-2018
Christmas
Special Christmas show
10
Steil
12-12-2018
R&b
90s r&b (late 90s)
9
Steil
05-12-2018
Club
90s club (late 90s)
8
Steil
28-11-2018
R&b
90s r&b (early 90s)
7
Steil
21-11-2018
Club
90s club (early 90s)
6
Steil
14-11-2018
Club
90s club (early 90s)
5
Steil
07-11-2018
Club
90s club (early 90s)
4
Steil
31-10-2018
Halloween
Special Halloween show
3
Steil
24-10-2018
Club
New & classic club music
2
Steil
17-10-2018
Club
Steil's birthday with some of his favourite tracks
1
Steil
10-10-2018
Club
1990 club
FB14
Steil
07-09-2018
House
80s house all vinyl show
FB13
Steil
29-08-2018
House
80s house all vinyl show
FB12
Steil
28-08-2018
House
80s house all vinyl show
FB11
Steil
25-07-2018
Club
80s club & dance vinyl mix
FB10
Steil
18-07-2018
Club
80s club & dance vinyl mix
FB9
Steil
04-06-2018
Club
80s club & dance vinyl mix
FB8
Steil
09-05-2018
Club
80s club & dance vinyl mix
FB7
Steil
02-05-2018
Club
80s club & dance vinyl mix
FB6
Steil
18-04-2018
Club
80s club & dance vinyl mix
FB5
Steil
13-02-2018
Club
80s club & dance vinyl mix
FB4
Steil
23-01-2018
Club
80s club & dance vinyl mix
FB3
Steil
09-01-2018
Club
80s club & dance vinyl mix
FB2
Steil
15-11-2017
Club
80s club & dance vinyl mix
FB1
Steil
01-11-2017
Club
80s club & dance vinyl mix